PALLIATIVE CARE AND COVID-19 RESOURCES
Global Palliative Care and COVID-19
---
The International Association for Hospice and Palliative Care (IAHPC) has compiled this list of resources relevant to palliative care and COVID-19 published by academia, civil society organizations, member states and special agencies of the United Nations, with links to all of the websites and documents listed.
Visit page here: http://globalpalliativecare.org/covid-19/
---
Palliative Care Resources from Harvard-affiliated Hospitals
---
---
CARIPALCA Webinar | Caring for the Carer
---
Caring for the Carer: Supporting those on the frontlines and in our communities. We will explore the psychosocial challenges faced by caregivers and offer practical solutions to address these issues.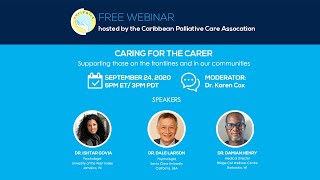 ---
---